Salt use best practices
Clear snow and ice and use de-icing salt effectively. This is part two of the course.
Part two: safety and snow and ice removal
Safety around ice during winter
Walk or roll slowly
Walk or roll slowly and carefully in slippery and icy spots.
Drive slowly
Slow down when you're driving. Drive for the weather, whether it's snowy or icy conditions.
Keep your distance
When driving, make sure to give plow drivers plenty of space to do their work.
Be patient with salt
Give the salt some time to melt the ice.
Note: just because you do not see salt on the road or sidewalk does not mean someone has not applied it.
Find common ice spots
Figure out what's causing common ice spots. Help get rid of icy spots by fixing the cause.
Some things that may cause ice spots:
A rain gutter down spout pointed towards your driveway
A low spot in your concrete
Melting ice drip from a roof, awning or other objects
Spread the word
Share this salt mini-course with your friends and coworkers
Post signs near your salt containers and at your community buildings
Best practices for de-icing
Snow and ice removal best practices
Remove snow physically first
Your first tool for snow and ice removal should always be physical removal.
Tools to remove ice
Shovel
Ice chisel
Snow blower
Broom
Leaf blower
Note: Never put snow down storm drains or gutters.
When to remove snow
Shovel snow promptly after snowfall. This helps to prevent compact ice from forming.
Handling ice without salt
Break up ice using an ice chisel instead of using salt.
Use sand
If ice persists, spread a light layer of sand on top of ice.
Sand provides traction, but does not melt ice.
Sweep up sand for reuse after ice melts naturally.
The City offers free sand for residents.
Avoid using salt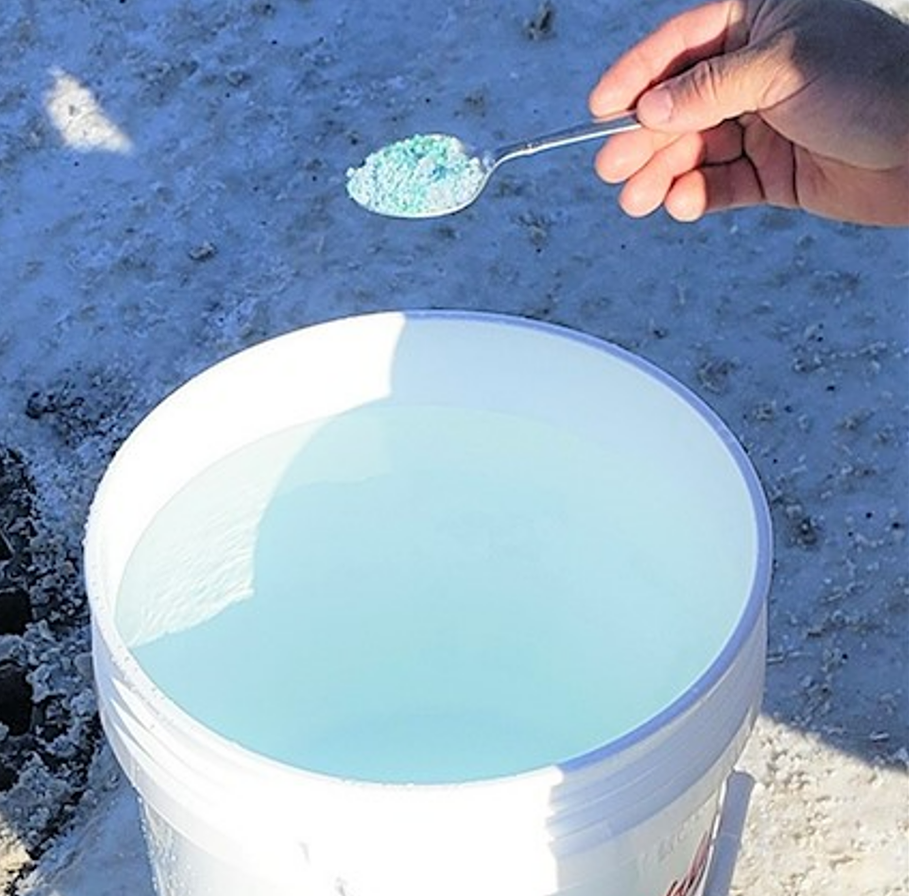 One teaspoon of salt pollutes five gallons of water forever. Avoid salt and protect our waters.
Salt use best practices
Before you use salt
Always use physical removal of snow and ice first. If ice remains after physical removal, use salt sparingly.
Where to apply salt
Only apply salt on ice.
Do not apply salt on bare pavement.
If you see salt on bare pavement, it's not doing any melting work. It will wash away into our lakes and rivers.
How to apply salt
Spot treat salt - apply salt in specific icy problem areas.
Use a light spread

More salt does not mean more melting.
Space each grain of salt about three inches apart.
See manufacturer labeled directions on how to best apply salt.

Remove extra salt - sweep up extra salt to reuse later.
Applying salt to large areas
A 150 square foot area, the area of a parking stall, only needs eight ounces of salt. Eight ounces is a small coffee cup of salt.
How to store salt
Store salt in covered or airtight containers. This helps to maintain quality and avoid leaking.
Post signs near your salt containers. Use signs to remind everyone on best application practices.
How well salt melts at different temperatures
Note: do not apply salt on very cold days. Use sand for traction on icy spots.
Salt and pavement temperature
How well salt can melt ice depends on the pavement temperature. Pavement temperature refers to the temperature of the ground. This may be different than the air temperature we use to describe the weather outside. Knowing pavement temperature is best.
The air temperature is close enough if you do not have a way to measure the pavement of temperature.
The table is a general guideline for how well salt will work in different temperatures.
How well salt works in different temperatures
| Air temp | Warm winter day | Cold winter day | Very cold winter day |
| --- | --- | --- | --- |
| Pavement temp | Over 15 degrees F | Over 0 degrees F | Below 0 degrees F |
| How well salt works | Salt will work. | Salt will not work as well. | Salt will not work. Use sand instead. |
Learn more
You can learn more on how different salt blends work in colder pavement temperatures.
Salt mini-course navigation
Salt Mini-Course Program
Surface Water & Sewers Regulatory Team
Public Works