Accepted organics
Here's what you can and cannot put in your organics recycling (composting) bins.
Learn more about organics recycling
Learn more about organics recycling at an upcoming educational session. Sessions are open to anyone who wants to learn about organics recycling.
Food scraps

Fruits and vegetables
Meat, fish and bones
Dairy products
Eggs and egg shells
Pasta, beans and rice
Bread and cereal
Nuts and shells
Food-soiled paper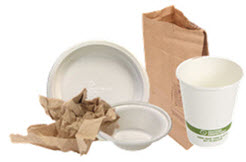 Pizza boxes from delivery
Napkins and paper towels
Paper egg cartons
Certified compostable products*

Plates
Cups
Bowls
Takeout containers
Utensils
*Look for the BPI logo on certified products. Only items with this logo are accepted. The BPI logo means the item was tested and will fully and safely break down without leaving unnatural byproducts like microplastics.
BPI (Biodegradable Products Institute) is a third-party certification company. You can verify that products are certified compostable by visiting BPI's website and searching their Certified Compostable Products Catalog.
Other compostable household items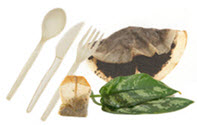 Coffee grounds and filters
Hair and nail clippings
Tissues
Cotton balls and swabs with paper stems
Houseplant trimmings and flowers
Wooden items such as chopsticks, popsicle sticks and toothpicks
Do not put these items in your organics cart
Yard waste
Bandages
Diapers and sanitary products
Animal and pet waste, litter or bedding
Cleaning or baby wipes
Grease or oil
StyrofoamTM
Dryer lint and dryer sheets
Recyclable items (cartons, glass, metal, paper, plastic)
Shredded paper
Frozen food boxes
Microwave popcorn bags
Gum
Fast food wrappers
Products labeled "biodegradable"
Wax paper or parchment paper (unless it's BPI certified)
Learn about more items
Print a copy of the Organics Recycling guide to look at when you have questions on what can go in your green organics recycling cart.
Address
Eastside Maintenance Facility
2635 University Ave NE
Minneapolis, MN 55418
Office hours
9 a.m. – 3:00 p.m.
Monday – Friday
This building is closed to the public.