Garbage and recycling at an event
Reduce waste at events and learn what to do with the waste you collect.
Recycling rules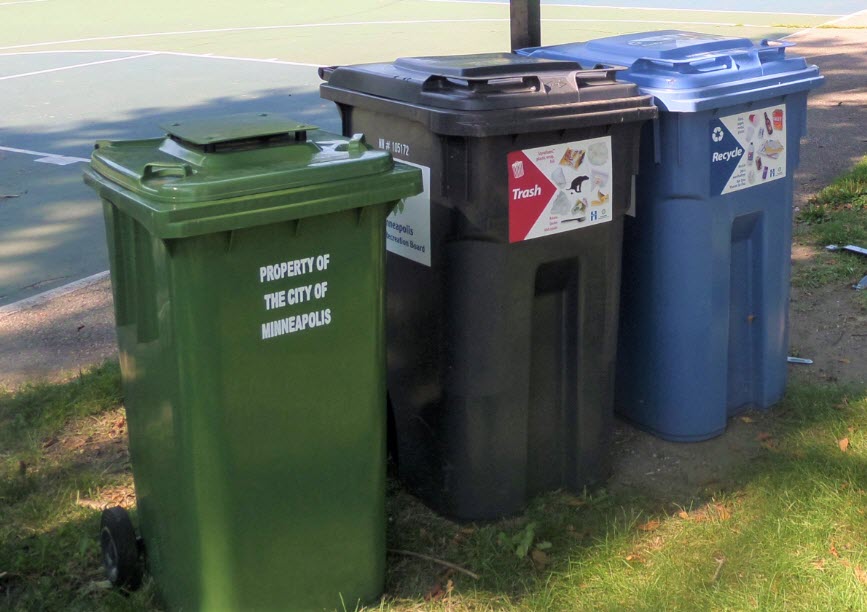 Large events
City ordinance requires one-to-one garbage and recycling at large events. One-to-one means that for every garbage container, there's also a recycling container. The containers should be next to each other.
Large events might be big block parties, parades or races.
Small events
Garbage and recycling services are highly recommended for smaller events. Smaller events create a lot of waste, and hosts often want to recycle and compost as much as possible.
Small events might be weddings, block parties or graduation parties.
Read the law
Renting Carts from the City
Applications not accepted
Our office is not accepting cart rentals during the following time periods in 2023.
September 22 - 26
October 6 - 9
If you are in need of event services during these times, you will need to reach out to private garbage and recycling haulers.
You may rent carts from port-a-potty companies, private haulers, or the City for both large and small events. Cart rental requests from the City are available on a first-come, first-served basis. Rental is not guaranteed.
Delivery, rental and fees
Delivery details
We'll deliver only within City of Minneapolis limits on weekdays between 7 a.m. and 4 p.m.
Carts are delivered to and picked up from the same location. Placement of carts around your event venue is the responsibility of the renter.
For weekend events, we'll deliver carts to a secure location on Friday, and we'll collect from the same location on Monday. If Monday is a major holiday, we'll collect on Tuesday.
You must submit your application at least 10 business days before the date of cart delivery.
We'll deliver the carts only after we've received payment.
Rental details
Fees include

Delivery and pickup of carts
Proper disposal of collected materials
A report of the weight of materials collected.
Nonprofits are not exempt from cart rental charges, taxes or fees.
State solid waste management taxes and County solid waste management fees will apply to rented garbage carts.
Fees
Rental fees are based on request, not on use. They are not refundable.
Cart Rental Fees

| | |
| --- | --- |
| Mobilization fee (covers 1–4 carts) | $80 |
| Additional garbage cart | $15 |
| Additional recycling cart | $5 |
| Additional organics cart | $5 |
The mobilization fee is a base fee for rental. It covers up to 4 carts. Additional carts will carry the per cart fee. For every 20 carts, you will be charged another mobilization fee, each of which will cover another 4 carts.
For example, if you rent:
7 carts, 4 will be covered under your mobilization fee, and 3 will carry the per cart fee.
20 carts, 4 will be covered under your mobilization fee, and 16 will carry the per cart fee.
21 carts, 8 will be covered under the two mobilization fees, and 13 will carry the per cart fee.
43 carts, 12 will be covered under the three mobilization fees, and 31 will carry the per cart fee.
We count recycling and organics carts first. So if you rent two of each kind of cart (six total), the two recycling and two organics carts will be covered under the mobilization fee, and the two garbage carts will be charged the per cart fee.
Possible extra fees
Any extra fees will be charged after the event.
Additional Fees

| | |
| --- | --- |
| Missing or damaged cart | $50 |
| Contaminated cart | $10 |
| Extra material | $5 per bag |
| Unacceptable material | Actual cost of disposal1 |
| Returned check | $30 |
1. For example, the hazardous waste fee starts at $75.
Holding a low-waste event is all about planning.
Start with paperless (electronic) invitations.
Use reusable, recyclable or compostable plates, cups, bowls and decorations.
Tell guests that you want the event to be low waste.
Let your guests know how well everyone did.
Recycling Coordinator
Public Works - Solid Waste & Recycling
Address
Eastside Maintenance Facility
2635 University Ave NE
Minneapolis, MN 55418
Office hours
8 a.m. – 4 p.m.
Monday – Friday
This building is closed to the public.