Salt reduction measures in Minneapolis
You can learn how Minneapolis uses best practices to lower chloride (salt) use in snow and ice removal.
Groups using less salt
Learn how the City use best practices to reduce salt use. Our Public Works - Transportation Maintenance & Repair (TMR) division does snow and ice control.
TMR - Street
TMR - Street follows best management practices for:
Salt use methods
Procedures
Storage
The annual MS4/NPDES permitting reporting outlines these efforts.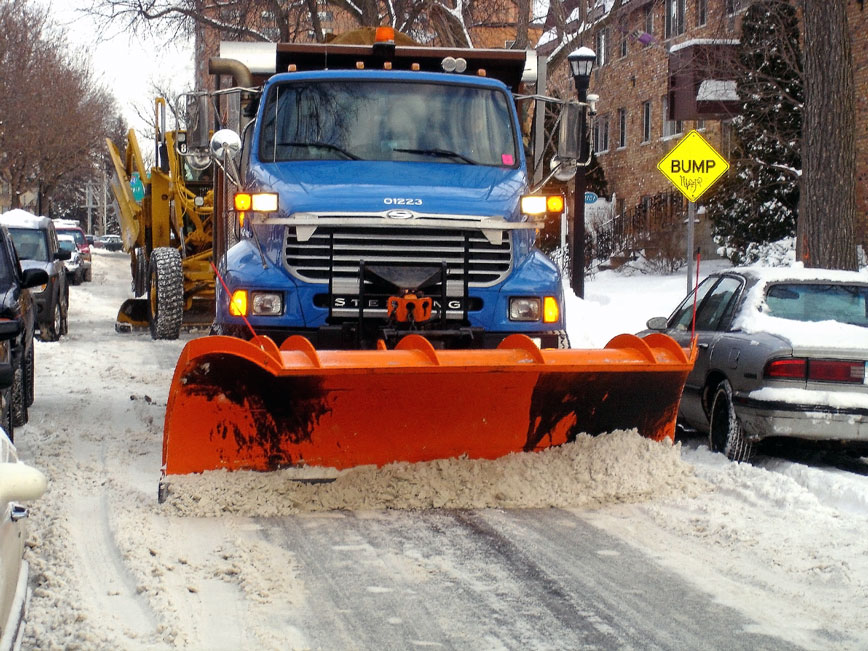 TMR - Street and bridge
What this group does
This group is responsible for citywide snow and ice control on:
Streets
Alleys
Parkways
Some trails
Bikeways
Bridge sidewalks
some City owned sidewalks and pedestrian facilities
De-icers used
We mainly use these de-icers and anti-ice methods:
Sodium chloride (NaCl) in the form of rock salt
Calcium chloride (CaCl2) for sidewalks and other pedestrian facilities
Magnesium chloride (MgCl2) on streets that comes in our treated salt.
Training
Employees take part in these trainings:
Formal Snowplow Operator Training (SPOT) with peer agencies or TMR trainers
APWA (American Public Works Association) trainings and workshops
Minnesota Local Training Assistance Program (LTAP)
MPCA Smart Salting certification for employees and supervisors
TMR - Ramp restoration and repair
This group manages the City parking ramps. They do sidewalk winter maintenance for police precincts and other City-owned sidewalks.
TMR - Sidewalk inspections office
Property owners are responsible for public sidewalks next to them in the right-of-way. This office hires contractors to clear properties that do not follow the rules. We require contractors to be MPCA Smart Salting certified.
TMR - Special service districts (SSD)
This group maintains public right-of-way sidewalks. The City hires contractors and recovers the cost from the SSD. We require contractors to be MPCA Smart Salting certified.
Salt reduction efforts resources
Steve Collin
Street Maintenance Engineer
Public Works - Transportation Maintenance and Repair